Synopsis
A gentle, sweet, funny, romantic story of love in later life. Following a couple in their sixties, Dave and Fern who get to know one another over the course of 23 dog walks. Set against the dramatic background of the changing seasons of one year.
Film Credits
Producer:
Anna Mohr-Pietsch
Maggie Monteith
Stewart Le Marechal
Starring:
Martine Brown
Bob Goody
Rakhee Thakrar
Aaliyah Youssef Thomas
Alison Steadman
Graham Cole
Dave Johns
Marsha Millar
Graham Turner
More Information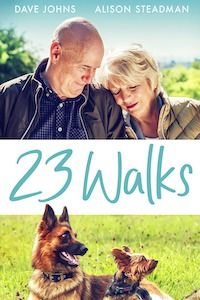 Rating:
12A
Suitable for 12 years and over
Films classified 12A and video works classified 12 contain material that is not generally suitable for children aged under 12. No one younger than 12 may see a 12A film in a cinema unless accompanied by an adult. Adults planning to take a child under 12 to view a 12A film should consider whether the film is suitable for that child. To help them decide, we recommend that they check the Ratings info for that film in advance. No one younger than 12 may rent or buy a 12 rated video work.
Language:
English, Spanish
Released:
25 September 2020