630883
Batman: The Doom That Came to Gotham
Synopsis
Explorer Bruce Wayne accidentally unleashes an ancient evil, and returns to Gotham after being away for two decades. There, Batman battles Lovecraftian supernatural forces and encounters allies and enemies such as Green Arrow, Ra's al Ghul, Mr. Freeze, Killer Croc, Two-Face and James Gordon.
Film Credits
Director:
Sam Liu
Christopher Berkeley
Producer:
Sam Liu
James Krieg
Kimberly S. Moreau
Starring:
David Giuntoli
Patrick Fabian
John DiMaggio
Karan Brar
Navid Negahban
More Information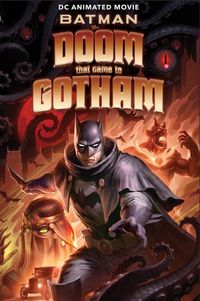 Rating:
PG-13
Parents Strongly Cautioned. Some Material May Be Inappropriate For Children Under 13.
A PG-13 rating is a sterner warning by the Rating Board to parents to determine whether their children under age 13 should view the motion picture, as some material might not be suited for them. A PG-13 motion picture may go beyond the PG rating in theme, violence, nudity, sensuality, language, adult activities or other elements, but does not reach the restricted R category. The theme of the motion picture by itself will not result in a rating greater than PG-13, although depictions of activities related to a mature theme may result in a restricted rating for the motion picture. Any drug use will initially require at least a PG-13 rating. More than brief nudity will require at least a PG-13 rating, but such nudity in a PG-13 rated motion picture generally will not be sexually oriented. There may be depictions of violence in a PG-13 movie, but generally not both realistic and extreme or persistent violence. A motion picture's single use of one of the harsher sexually-derived words, though only as an expletive, Classification and Rating Rules Effective January 1, 2010 8 initially requires at least a PG-13 rating. More than one such expletive requires an R rating, as must even one of those words used in a sexual context. The Rating Board nevertheless may rate such a motion picture PG-13 if, based on a special vote by a two-thirds majority, the Raters feel that most American parents would believe that a PG-13 rating is appropriate because of the context or manner in which the words are used or because the use of those words in the motion picture is inconspicuous.
Genres:
Action/Adventure
Animation
Suspense/Thriller
Batman: The Doom That Came to Gotham