Synopsis
Inspired by writer, director, and star Aml Ameen's life, Boxing Day follows Melvin (Ameen), a British author living in America, who returns home to London for Christmas to introduce his American fiancée, Lisa (King), to his eccentric British-Caribbean family. Their relationship is put to the test as she discovers the world her fiancée has left behind.
Film Credits
Starring:
Aml Ameen
Claire Skinner
Leigh-Anne Pinnock
Aja Naomi King
Marianne Jean-Baptiste
More Information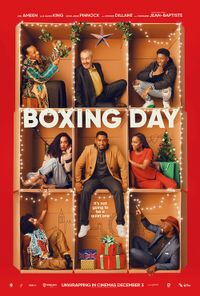 Rating:
15A
15A Certificate
Films classified 15A have been deemed appropriate for viewers of fifteen and over. However, they can also be seen by younger children - provided they are accompanied by an adult who has deemed the film appropriate viewing for that child. In such cases, IFCO strongly recommends that parents/guardians make informed decisions by accessing the consumer advice available on this website.