Synopsis
In Bullet Train, Brad Pitt stars as Ladybug, an unlucky assassin determined to do his job peacefully after one too many gigs gone off the rails. Fate, however, may have other plans, as Ladybug's latest mission puts him on a collision course with lethal adversaries from around the globe – all with connected, yet conflicting, objectives – on the world's fastest train…and he's got to figure out how to get off. From the director of Deadpool 2, David Leitch, the end of the line is only the beginning in a wild, non-stop thrill ride through modern-day Japan.
Film Credits
Producer:
Kelly McCormick
Antoine Fuqua
David Leitch
Starring:
Joey King
Zazie Beetz
Brad Pitt
Kelly McCormick
Antoine Fuqua
Andrew Koji
Brian Tyree Henry
Aaron Taylor-Johnson
Michael Shannon
David Leitch
More Information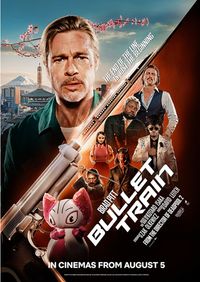 Rating:
R
Restricted. Children Under 17 Require Accompanying Parent or Adult Guardian.
An R-rated motion picture, in the view of the Rating Board, contains some adult material. An R-rated motion picture may include adult themes, adult activity, hard language, intense or persistent violence, sexually-oriented nudity, drug abuse or other elements, so that parents are counseled to take this rating very seriously. Children under 17 are not allowed to attend R-rated motion pictures unaccompanied by a parent or adult guardian. Parents are strongly urged to find out more about R-rated motion pictures in determining their suitability for their children. Generally, it is not appropriate for parents to bring their young children with them to R-rated motion pictures.
Country:
Japan, United States
Language:
English, Japanese
Genres:
Action/Adventure
Comedy
Suspense/Thriller