133617
DC League of Super-Pets
Synopsis
Krypto the Super-Dog and Superman are inseparable best friends, sharing the same superpowers and fighting crime side by side in Metropolis. However, Krypto must master his own powers for a rescue mission when Superman is kidnapped.
Film Credits
Director:
Jared Stern / Sam Levine
Sam Levine
Jared Stern
Producer:
Dany Garcia
Hiram Garcia
Patricia Hicks
Dwayne Johnson
Jared Stern
Writer:
John Whittington
Jared Stern
Starring:
Keanu Reeves
Kate McKinnon
John Krasinski
Dwayne Johnson
Kevin Hart
Kevin Conroy
More Information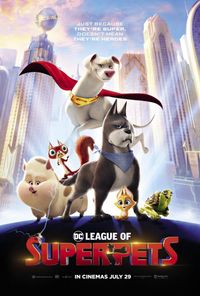 Rating:
PG
Parental Guidance
General viewing, but some scenes may be unsuitable for young children. A PG film should not unsettle a child aged around eight or older. Unaccompanied children of any age may watch, but parents are advised to consider whether the content may upset younger, or more sensitive, children.
Genres:
Action/Adventure
Animation
Comedy
Family
SciFi/Fantasy