144425
Doctor Strange in the Multiverse of Madness
Synopsis
Dr. Stephen Strange casts a forbidden spell that opens a portal to the multiverse. However, a threat emerges that may be too big for his team to handle.
Film Credits
Director:
Scott Derrickson
Sam Raimi
Writer:
Jade Halley Bartlett
Michael Waldron
Starring:
Tom Hiddleston
Elizabeth Olsen
Benedict Wong
Xochitl Gomez
Chiwetel Ejiofor
Benedict Cumberbatch
More Information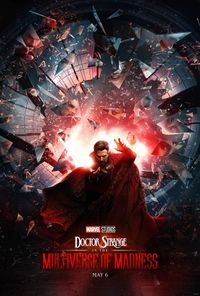 Rating:
12A
Suitable for 12 years and over
Films classified 12A and video works classified 12 contain material that is not generally suitable for children aged under 12. No one younger than 12 may see a 12A film in a cinema unless accompanied by an adult. Adults planning to take a child under 12 to view a 12A film should consider whether the film is suitable for that child. To help them decide, we recommend that they check the Ratings info for that film in advance. No one younger than 12 may rent or buy a 12 rated video work.
Genres:
Action/Adventure
Horror
SciFi/Fantasy
Suspense/Thriller
Doctor Strange in the Multiverse of Madness