107580
Dungeons & Dragons: Honor Among Thieves
Synopsis
Based on the popular dice board game and live-action remake to the 80s cartoon of the same name, where a group of misfit teens get teleported to a fantasy realm.
Film Credits
Director:
John Francis Daley
Jonathan M. Goldstein
Producer:
Stephen Davis
Roy Lee
Courtney Solomon
Brian Goldner
Allan Zeman
Nick Meyer
Jeremy Latcham
Writer:
Michael Gilio
Geneva Robertson-Dworet
Dave Arneson
David Leslie Johnson-McGoldrick
Starring:
Justice Smith
Sophia Lillis
Regé-Jean Page
Hugh Grant
Chris Pine
Michelle Rodriguez
More Information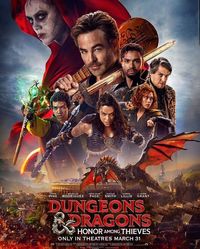 Rating:
12A
Suitable for 12 years and over
Films classified 12A and video works classified 12 contain material that is not generally suitable for children aged under 12. No one younger than 12 may see a 12A film in a cinema unless accompanied by an adult. Adults planning to take a child under 12 to view a 12A film should consider whether the film is suitable for that child. To help them decide, we recommend that they check the Ratings info for that film in advance. No one younger than 12 may rent or buy a 12 rated video work.
Country:
Canada, United States
Genres:
Action/Adventure
Comedy
Family
SciFi/Fantasy
Dungeons & Dragons: Honor Among Thieves