336136
Fisherman's Friends: One and All
Synopsis
Following the unexpected success of the band's debut album "No Hopers, Jokers and Rogues", we re-join them almost a year later, struggling with the pressures, pitfalls and temptations of their newfound fame, second album syndrome, and performing on the pyramid stage at Glastonbury.
Film Credits
Director:
Nick Moorcroft
Meg Leonard
Producer:
Nick Moorcroft
Meg Leonard
James Spring
Writer:
Nick Moorcroft
Piers Ashworth
Meg Leonard
Starring:
Daniel Mays
Richard Harrington
Sam Swainsbury
Christian Brassington
Vahid Gold
James Purefoy
Dave Johns
Maggie Steed
Jade Anouka
Noel Clarke
More Information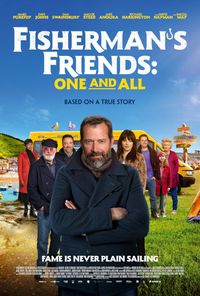 Rating:
12A
Suitable for 12 years and over
Films classified 12A and video works classified 12 contain material that is not generally suitable for children aged under 12. No one younger than 12 may see a 12A film in a cinema unless accompanied by an adult. Adults planning to take a child under 12 to view a 12A film should consider whether the film is suitable for that child. To help them decide, we recommend that they check the Ratings info for that film in advance. No one younger than 12 may rent or buy a 12 rated video work.
Genres:
Comedy
Drama
Musical
Fisherman's Friends: One and All