Synopsis
Everyone's favorite yellow canary unexpectedly becomes next in line for the crown when the queen of an island paradise disappears. His Little Highness' entourage includes motorbike daredevil Granny and sly Sylvester, whose allegiance is tested when he uncovers a sinister plot to eliminate Tweety for good.
Film Credits
Starring:
Eric Bauza
Flula Borg
Niccole Thurman
Jon Daly
Candi Milo
More Information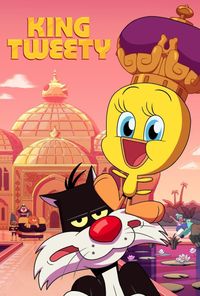 Rating:
U
Universal - Suitable for all
A U film should be suitable for audiences aged four years and over, although it is impossible to predict what might upset any particular child. U films should be set within a positive framework and should offer reassuring counterbalances to any violence, threat or horror. If a work is particularly suitable for pre-school children, this will be indicated in the BBFCinsight.
Genres:
Animation
Comedy
Family