Synopsis
Inspired by the 2005 Paris riots, director Ladj Ly's Oscar-nominated LES MISÉRABLES is a hugely topical provocative insight into the tensions between neighbourhood residents and police.
Stéphane (Damien Bonnard) has recently joined the Anti-Crime Squad in Montfermeil, in the suburbs of Paris, France, where Victor Hugo set his famed novel "Les Misérables". Alongside his new colleagues Chris (Alexis Manenti) and Gwada (Djebril Zonga) - both experienced members of the team - he quickly discovers tensions running high between local gangs. When the trio finds themselves overrun during the course of an arrest, a drone captures the encounter, threatening to expose the reality of everyday life.
Film Credits
Producer:
Toufik Ayadi
Christophe Barral
Writer:
Alexis Maneti
Alexis Manenti
Ladj Ly
Giordano Gederlini
Starring:
Steve Tientcheu
Damien Bonnard
Alexis Manenti
Jeanne Balibar
Djibril Zonga
More Information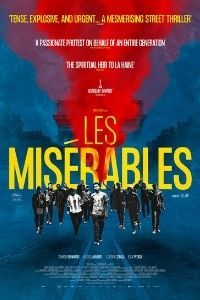 Rating:
R
Restricted. Children Under 17 Require Accompanying Parent or Adult Guardian.
An R-rated motion picture, in the view of the Rating Board, contains some adult material. An R-rated motion picture may include adult themes, adult activity, hard language, intense or persistent violence, sexually-oriented nudity, drug abuse or other elements, so that parents are counseled to take this rating very seriously. Children under 17 are not allowed to attend R-rated motion pictures unaccompanied by a parent or adult guardian. Parents are strongly urged to find out more about R-rated motion pictures in determining their suitability for their children. Generally, it is not appropriate for parents to bring their young children with them to R-rated motion pictures.
Advisory:
very strong language, brief sexual threat
Language:
French, Bambara
Released:
4 September 2020
Genres:
Drama
Suspense/Thriller