Sinopsis
MR. JONES brings to the screen the extraordinary and powerful story of the real-life Welsh journalist who uncovered Stalin's genocidal famine in Ukraine, which killed almost 10 million.
Créditos
Productores:
Klaudia Smieja-Rostworowska
Andrea Chalupa
Stanislaw Dziedzic
Klaudia Smieja
Reparto:
James Norton
Fenella Woolgar
Joseph Mawle
Vanessa Kirby
Peter Sarsgaard
Michalina Olszanska
Más información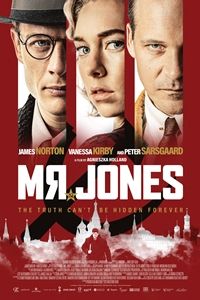 Calificación:
15
Suitable only for 15 years and over
No one younger than 15 may see a 15 film in a cinema. No one younger than 15 may rent or buy a 15 rated video work.
Motivo:
distressing scenes, brief drug misuse, nudity
País:
Reino Unido, Polonia, Ucrania
Idioma:
Inglés, Galés, Ruso, Ucraniano
Géneros:
Drama
Suspense/Thriller