Synopsis
In No Time To Die, Bond has left active service and is enjoying a tranquil life in Jamaica. His peace is short-lived when his old friend Felix Leiter from the CIA turns up asking for help. The mission to rescue a kidnapped scientist turns out to be far more treacherous than expected, leading Bond onto the trail of a mysterious villain armed with dangerous new technology.
Film Credits
Producer:
Barbara Broccoli
Michael G. Wilson
Writer:
Cary Joji Fukunaga
Neal Purvis
Phoebe Waller-Bridge
Robert Wade
Starring:
Rami Malek
Ben Whishaw
Christoph Waltz
Daniel Craig
Léa Seydoux
Jeffrey Wright
Ralph Fiennes
Naomie Harris
Lashana Lynch
More Information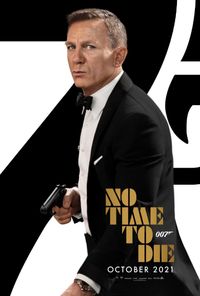 Rating:
15
Suitable only for 15 years and over
No one younger than 15 may see a 15 film in a cinema. No one younger than 15 may rent or buy a 15 rated video work.
Country:
United Kingdom, United States
Genres:
Action/Adventure
Suspense/Thriller