Synopsis
Called to Rome to stop an imminent terrorist bombing, a soldier desperately seeks news of his imprisoned brother — a rebel with knowledge that could thwart the attack. Navigating the capital's darkened streets, he races to a series of ominous encounters to keep the Vatican from being blown to bits.
Film Credits
Starring:
Cristina Chiriac
Anna Ferrara
Salvatore Ruocco
Phil Neilson
Ethan Hawke
More Information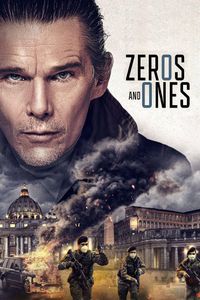 Rating:
R
Restricted. Children Under 17 Require Accompanying Parent or Adult Guardian.
An R-rated motion picture, in the view of the Rating Board, contains some adult material. An R-rated motion picture may include adult themes, adult activity, hard language, intense or persistent violence, sexually-oriented nudity, drug abuse or other elements, so that parents are counseled to take this rating very seriously. Children under 17 are not allowed to attend R-rated motion pictures unaccompanied by a parent or adult guardian. Parents are strongly urged to find out more about R-rated motion pictures in determining their suitability for their children. Generally, it is not appropriate for parents to bring their young children with them to R-rated motion pictures.
Country:
United States, Italy, Germany
Language:
English, Italian
Released:
19 November 2021
Genres:
SciFi/Fantasy
Suspense/Thriller
War