Synopsis
In No Time To Die, Bond has left active service and is enjoying a tranquil life in Jamaica. His peace is short-lived when his old friend Felix Leiter from the CIA turns up asking for help. The mission to rescue a kidnapped scientist turns out to be far more treacherous than expected, leading Bond onto the trail of a mysterious villain armed with dangerous new technology.
Film Credits
Producer:
Barbara Broccoli
Michael G. Wilson
Writer:
Cary Joji Fukunaga
Neal Purvis
Robert Wade
Phoebe Waller-Bridge
Starring:
Rami Malek
Ben Whishaw
Christoph Waltz
Daniel Craig
Léa Seydoux
Jeffrey Wright
Ralph Fiennes
Naomie Harris
Lashana Lynch
More Information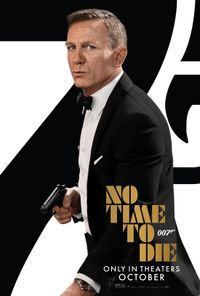 Rating:
PG-13
Parents Strongly Cautioned. Some Material May Be Inappropriate For Children Under 13.
A PG-13 rating is a sterner warning by the Rating Board to parents to determine whether their children under age 13 should view the motion picture, as some material might not be suited for them. A PG-13 motion picture may go beyond the PG rating in theme, violence, nudity, sensuality, language, adult activities or other elements, but does not reach the restricted R category. The theme of the motion picture by itself will not result in a rating greater than PG-13, although depictions of activities related to a mature theme may result in a restricted rating for the motion picture. Any drug use will initially require at least a PG-13 rating. More than brief nudity will require at least a PG-13 rating, but such nudity in a PG-13 rated motion picture generally will not be sexually oriented. There may be depictions of violence in a PG-13 movie, but generally not both realistic and extreme or persistent violence. A motion picture's single use of one of the harsher sexually-derived words, though only as an expletive, Classification and Rating Rules Effective January 1, 2010 8 initially requires at least a PG-13 rating. More than one such expletive requires an R rating, as must even one of those words used in a sexual context. The Rating Board nevertheless may rate such a motion picture PG-13 if, based on a special vote by a two-thirds majority, the Raters feel that most American parents would believe that a PG-13 rating is appropriate because of the context or manner in which the words are used or because the use of those words in the motion picture is inconspicuous.
Country:
United Kingdom, United States
Genres:
Action/Adventure
Suspense/Thriller